Team of undergraduate researchers from the FIRE Sustainability Analytics stream selected for the nationwide Poster on the Hill event
---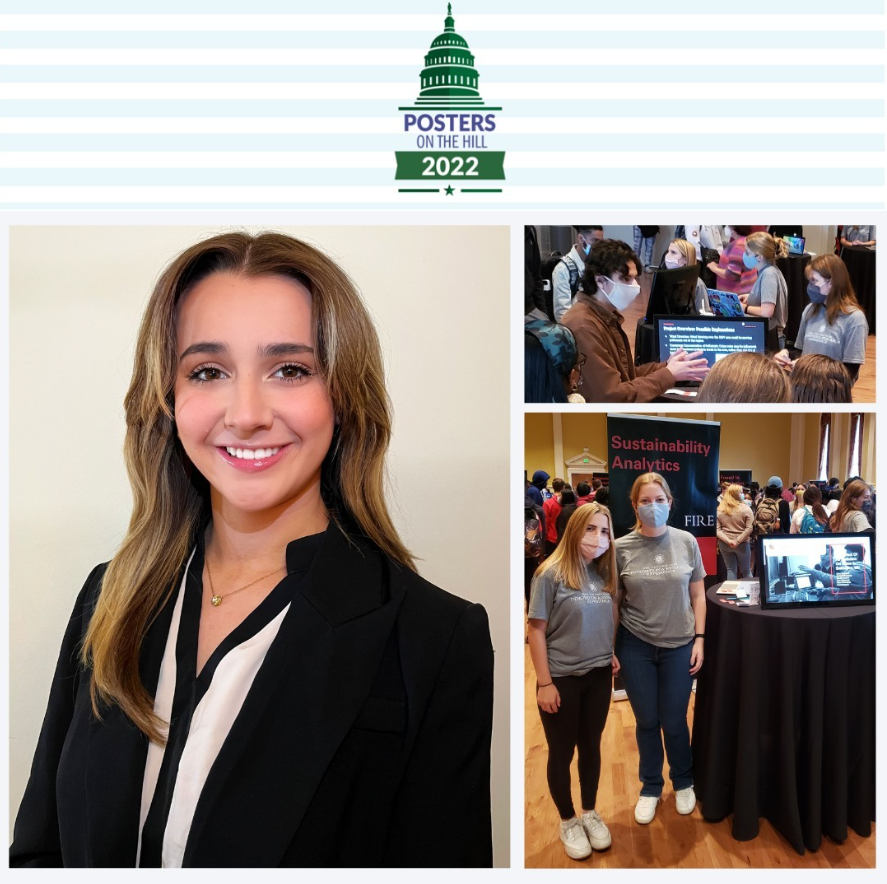 A group of undergraduate researchers from the Sustainability Analytics (SA) stream of the University of Maryland's First-Year Innovation & Research Experience (FIRE) was selected to present their findings this week at Posters on the Hill 2022.

Sustainability Analytics is based in the Department of Agricultural and Resource Economics of the College of Agriculture and Natural Resouces. The students are from a wide range of majors, spanning many of the colleges and schools at the university. The program enables first-year students to interpret big data and conduct applied economic research on global issues. In the following semesters, the students drive the research project to completion and communicate the results to a broad audience. 

Posters on the Hill is an annual D.C. event displaying select research projects from around the country. The event was sponsored by the Council on Undergraduate Research (CUR), which works to create research opportunities for university students and faculty.

"This is a prestigious event for undergraduates as only one presentation from each state is selected and SA is the representative for Maryland," said faculty collaborator professor Lars Olson. 

The website of the CUR notes, "Posters on the Hill is a critical element in CUR's advocacy efforts. It is more important than ever that the voice of undergraduate researchers and their mentors are heard on Capitol Hill. This event celebrates the impressive work of the accepted students and supports the messages of the importance of undergraduate research at the federal level."

Melissa Calabrese presented the team's research on the correlation between pollution levels and crime rates in Washington, D.C., and Baltimore, MD. They analyzed pollution data from the Environmental Protection Agency, as well as crime report data from regional police departments.

FIRE Sustainability Analytics draws methods from economics, data science, and geography to understand the socioeconomic consequences of climate change and environmental regulations.

"Ideally, this research will impact future policy-making by providing a relationship between environmental concerns and public safety concerns," said Calabrese, a sophomore criminology and criminal justice major.