The faculty and staff gathered together with the friends and family of the students graduating from the College of Agriculture and Natural Resources on Thursday, May 23, 2019 in the UMD Reckord Armory to celebrate the outstanding academic achievements of the graduates.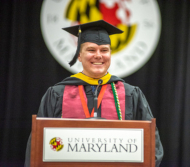 Approximately 30 AREC students received their baccalaureate degrees. Pictured to the left is Brian Glenn, who served as this year's commencement speaker.

Graduates will move on to jobs ranging from trade associations to local and federal government agencies to companies that provide data analytics solutions. In addition, several students have been accepted to graduate schools such as Duke University's environmental management department and the UMD Smith School's information systems program.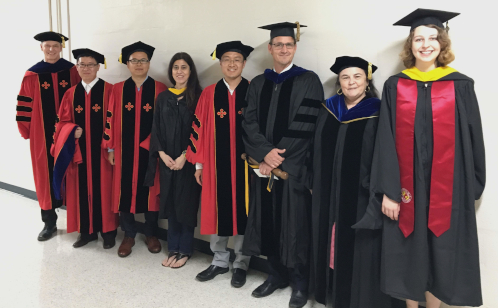 Four graduate students were recognized at the commencement ceremony. Pictured above are Professor Lars Olson, Jun Zhang, Guanghui Que, Professor Anna Alberini, Yuandong Qi, Associate Professor Ken Leonard, Professor and Chair Lori Lynch, and Abigail Durden. Andrew Rosenberg, Mehrab Bakhtiar, and Youpei Yan will also be receiving their degrees this year.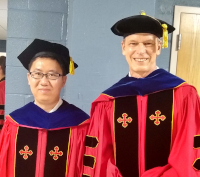 In addition to the commencement ceremony, many graduating students gathered together for the College of Agriculture & Natural Resources Graduation Luncheon on Wednesday, May 22, 2019 at Prince Georges Room in Stamp Student Union. AREC students were lauded and received additional accolades from the AGNR Alumni Network. Pictured to the right is Jun Zhang (with Professor Lars Olson), who was selected as the AREC outstanding graduate student. Brian Glenn was selected as the AREC outstanding baccalaureate student, in addition to being named a University of Maryland 2019 'Do Good' Graduate. 

Congratulations to all of our amazing graduates!