Image Credit: iStock Photos / Getty Images
---
AREC visiting research professor James MacDonald was interviewed by a variety of media outlets this week, both regionally and nationally. He answered questions about the impact of COVID-19 on the meatpacking industry, as well as the implications for the supply of meat and prices. MacDonald has researched US and international meat production and the meatpacking industry for over 30 years.

An article in the Baltimore Sun on Monday, April 27th, addressed the fear of meat shortages in Maryland and elsewhere as coronavirus sweeps through packing plants. Among other points, MacDonald commented on the shift in consumption from restaurants and food service to supermarkets and the need for packing plants and other aspects of the supply chain to adapt to the change.

President Trump invoked the Defense Production Act and signed an executive order Tuesday, April 28th, declaring meatpacking plants as critical infrastructure and compelling facilities to remain open. 

NPR followed up with MacDonald and released interviews available as podcasts and articles. 

The April 29th edition of NPR Marketplace is available as a podcast in its entirety (MacDonald's comments begin at the 5 minute mark), as well as a podcast of that segment with an accompanying news article. 

A large pork processing plant in South Dakota closed in mid-April after hundreds of employees contracted COVID-19. South Dakota's Siouxland Public Media News interviewed MacDonald for an edition of The Exchange and posted a podcast on Thursday, April 30th. MacDonald's portion of the podcast begins at 12m42s.

He touched on a wide range of topics in his public media news interviews, including meat export projections, the availability of labor for meatpacking plants, immigration policy, wholesale meat pricing, and the interaction between farmers and meat processing facilities. 

MacDonald has also been interviewed by the New York Times and the Washington, D.C. metropolitan area news outlet WTOP. This article will be updated with additional links to articles and recordings as they become available.

Please direct media inquires to Sam Watters in the communications office of the College of Agriculture and Natural Resources.

_______________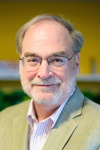 James MacDonald is a visiting research professor with the Department of Agricultural and Resource Economics in the College of Agriculture and Natural Resources at the University of Maryland. 

In addition to his research, Dr. MacDonald teaches the undergraduate senior-level classes AREC433, Food and Agricultural Policy, and AREC427, Commodity Pricing and Markets. He also enjoys mentoring graduate students in the department.  

Prior to joining the department, Dr. MacDonald was chief of the Structure, Technology, and Productivity Branch at USDA's Economic Research Service. As branch chief, he built teams and supervised ERS research on farm structure, productivity, field practices, and agricultural research and innovation, while co-managing USDA's Agricultural Resource Management Survey.